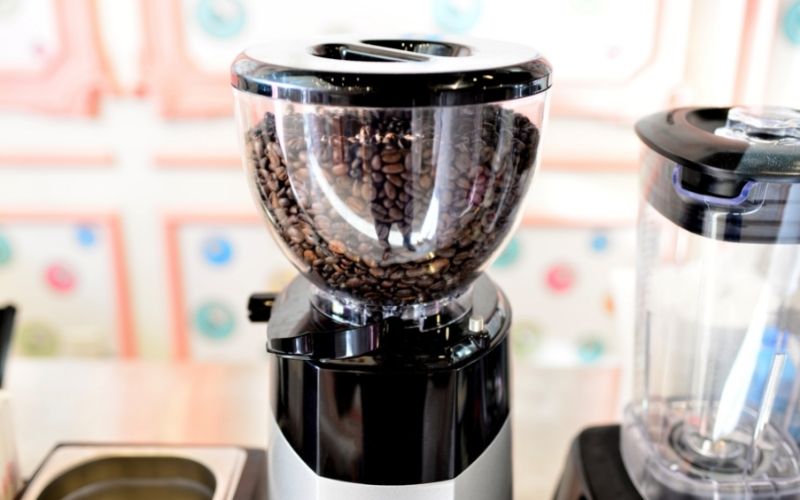 Have you ever wondered what it would be like to grind your own coffee – right there in your kitchen? What it would be like, what it would feel like.
We'll tell you: It's the best thing in the world. Nothing compares to the intense smell of freshly ground coffee – and the coffee that you make from that same, freshly ground coffee is a thousand times better than any sort of pre-ground coffee.
But you've probably thought of that already. That is why you're here: not to decide whether or not to buy one, but which one to buy. This article is all the help you'll need! Keep reading to find out why and the 6 best burr coffee grinders selected for you.
Our Top Choices for Burr Coffee Grinders
Because who's got time to read the whole article?
Breville Smart Grinder Pro
Baratza Encore
Bodum Bistro Coffee Grinder
Grinders list & main features
But a shortlist with bullet points isn't gonna cut it for most people – that's why we did some research – some serious in-depth research to find out what it was actually like to grind coffee with each one of these grinders.
The result? A helpful review for a future owner that lets them accurately picture how it would be like to own and use one of these grinders.
The 6 Best Burr Coffee Grinders
A good-looking, compact grinder that packs more than a few punches for its size
Before saying anything else, we have to take a step back and admire the simple yet breathtaking design of this machine. Of course, it's similar to most other grinders – but its small size combined with that stainless steel, shiny top, and LCD screen, the Virtuoso+ is certainly a grinder that makes an impression on anyone who lays eyes on it.
This Grinder has got hardened alloy steel burrs that can grind 2 grams of coffee beans per second and allows you to experiment with 40 different grind settings that'll let you find the perfect grind that suits your taste best.
Thanks to its LCD screen which is operated with a dial, you can adjust the grind settings, as well as set the timer for your grind.
One thing that we were grateful for when using this coffee grinder is that it actually has a LED backlight for the grounds bin – these things are made of dark colors so that it doesn't turn ugly when the coffee grounds inevitably start staining the plastic – and this is precisely why sometimes it's hard to tell how much is in there. Thanks to this backlight, we same ourselves some precious time.
As with other Baratza grinders, you can always contact Baratza in case there's any part of your grinder that's started to perform poorly after normal wear and tear, and they'll fix that for you – no need to get a brand new grinder!
| | |
| --- | --- |
| Pros | Cons |
| 8-ounce bean hopper | Design is too narrow; easy to tip over if you're careless |
| LCD screen |   |
| Programmable timer |   |
| 40 grind settings |   |
| Backlit grounds bin |   |
Bottomline
The Virtuoso+ has made a name for itself particularly for home use because of its great design that is small compared to most other grinders and, in turn, it is much more home-friendly.
If you're a fan of home-ground coffee but cannot stand big machines that take too much space, the Virtuoso+ is your best choice.
This incredibly ergonomic grinder comes with its very own scale that weighs coffee as it grinds
One big, big issue with most home grinders is the fact that the motor overheats – this, in turn, transfers heat to the rest of the machine. While the beans might be able to withstand some of this heat without compromising their flavor integrity, ground coffee is much more delicate; this slight variation in temperature could mean a loss of richness in flavor.
The OXO BREW grinder, however, has a motor that relies more on torque than speed. What this means is, basically, that you won't have issues either with loss of quality in your coffee or -god forbid- with your motor going bust.
To navigate the grinder's options, you use a button combined with a seamless display; sometimes, subtle is better. To adjust your grind settings, just rotate the base of the hopper like you would most other grinders – this grinder has 38 different grind settings.
With the display, you can grind either by single cup, or you can grind according to how many grams -basically, by weight- you want to use. There's also a manual option if you like measuring by sight (call it intuition; sounds better).
| | |
| --- | --- |
| Pros | Cons |
| 16 oz. bean hopper | Could use more grind settings |
| Sleek display |   |
| Integrated scale |   |
| 38 grind settings |   |
| Anti-overheating motor |   |
Bottomline
It's not the raw power that matters – neither does plenty of grind settings, it would seem. But to compensate for this small couple of things, this grinder brings us a great motor that not only avoids overheating (a barista's worst nightmare) but also makes less noise when grinding.
The integration of a scale makes this one of the friendliest grinders for home use – that, paired with the ergonomic design that is easy to fit at home, make it one of the top home-use contenders. Recommended.
It's not the size that matters; The Capresso Infinity will give you best results for the least amount of money
This grinder is a total savior for many people. Most regular coffee drinkers just want to enjoy freshly ground coffee (as should everyone) but, upon doing a couple of searches, find out that grinders are actually quite expensive.
But the last thing you should ever do is buy one of those blade grinders; they seem so alluring -because they're cheap- and hard to resist. Behold, the Capresso 560-04 Infinity Grinder.
This little monster will grind your coffee much like all those more expensive ones – with a powerful set of stainless steel burrs that lack nothing in comparison to other grinders on this list.
The only setback though is a diminished number of grind settings to play with – but this is completely understandable, and anyone would take that deal in under a second. The price of this grinder, in relation to the quality of the grind, is completely underrated.
Beyond that, the 560.04 Infinity Grinder is incredibly easy to operate even if you've never used one of these before. There's an indicator of grind levels (extra-fine, fine, medium, and coarse) which you can set manually, and then, with a rotating dial, you can grind according to your taste.
| | |
| --- | --- |
| Pros | Cons |
| 8.8-ounce bean hopper | Very restricted grind settings |
| Easy to use |   |
| 16 grind settings |   |
| Affordable |   |
| Small design |   |
Bottomline
So what's our takeaway from using this grinder?
Basically, it's a great, affordable, efficient grinder that we think would be perfect for those who are just getting into this whole grinding thing. It is super easy to operate and it's very affordable – in case you don't want to drop big money on your first grinder.
Small, affordable, and easy to use. Recommended for those on a tight budget.
With an unusual design, this grinder has quickly gained reputation amongst coffee lovers
It seems like, for once, we are seeing a coffee grinder that was made with us -the ones using the product- in mind. It's a machine that's incredibly easy to use and it's full of practical little details, like;
The lid for the bean hopper has a grinding guide imprinted; no need to either memorize or whip out your phone – all the info you need to grind your coffee according to a particular brewing method is right there on top of your grinder!
The grounds bin is made of a special anti-static glass, which helps keep at bay one of the most annoying things about grinders; microscopic coffee particles that stick to anything and everything because of static, forcing you to clean way too often.
The grounds bin has a rubber band to ensure a firm grip – preventing any sort of accident that could easily happen when one's grinding coffee early in the morning.
Besides all this, the Bodum Bistro grinder is a spectacular choice that will make you seriously think twice before picking a bigger, more expensive grinder – because this one seems just way too tempting to not get.
| | |
| --- | --- |
| Pros | Cons |
| 7.7-ounce bean hopper | Not very useful if you need to grind a lot of coffee |
| Easy to operate |   |
| Anti-static glass |   |
| 12 grind settings |   |
|   |   |
Bottomline
We know what you're thinking: Just 12 grind settings?! Are you kidding me?!
But the truth is, for a product this good (and for this price) you couldn't ask for more. After all, there's been grinders that barely give you more than 3 different grinding settings, so 12 is still a pretty good number.
If you're able to look past that number, you'll see that everywhere else you look, this grinder is a very appealing choice for most people. It's super practical, compact, and inexpensive. Super recommended.
One of the most customizable home grinders, the amount of features this machine has will knock your socks off
Let's start from the top; This grinder has a conical hopper that can hold up to 18 ounces of beans.
The best feature, the LCD display, lets you control your grind down to the smallest detail; with the help of a dial and a couple of buttons, you can set things like grind amount, grind settings, even the amount of shots you want, and the grinding time you want – this last one you're able to change by 0.2 seconds each time – which is a barista's wet dream.
Then, the machine grinds either into its very own container, which is super useful and probably the best-designed grounds bin on this list. But that's not all – this grinder also adapts to portafilter so that you can grind your ground coffee directly into your portafilter, making this a great choice for people who have their own espresso machine at home.
With 60 different grind settings for you to play with, plus the timing of each dose, this grinder lends itself to experimentation with your whole beans in a way that no other grinder does – a great choice for connoisseurs and coffee lovers alike.
| | |
| --- | --- |
| Pros | Cons |
| 18-ounce bean hopper | A bit expensive |
| LCD screen |   |
| Super programmable |   |
| 60 grind settings |   |
| Grinds directly into the portafilter |   |
Bottomline
This grinder is more on the semi-professional end when it comes to personal-use grinders. To really get the best out of a grinder like this, it would be ideal that you've already gone through several grinders before and have a working knowledge of these machines – otherwise, you're spending money for a regular grind.
So – aspiring barista, coffee enthusiast, or just regular person who wants to really up their coffee game; this coffee grinder will challenge you and, in the end, make your coffee taste better than ever.
The most loved grinder, this grinder has the best reputation among coffee grinders around the world for its durability and reliability
Sometimes, more than just the raw specs of the machine, you want a piece of equipment that has gotten good reviews- something that has been on the market a long time and has a solid reputation for being a good, reliable machine.
This is exactly what the Encore is: There's no machine on the market that has won over so many customers over the years such as this one. No matter who you ask, where you look, there's always a sure answer to the question of which is a good grinder to buy; The Baratza Encore.
So what do you get with the Baratza Encore? You get professional standard 400mm hardened stainless steel burrs that will take the heat and then some more before they even start complaining about the work. You get 40 different grind settings, which you adjust manually, as all operating with this machine is – simple, manual, intuitive. You get a conical 8-ounce bean hopper with a slight tint designed to protect your beans from UV exposure – which is proven to make beans deteriorate faster.
The design for this machine is quite subtle, but still very fashionable – it's made mostly black (and black goes well with anything) and the machine itself is not too big, but can easily find its place in a small or medium kitchen without you having to move anything around to make space for it.
| | |
| --- | --- |
| Pros | Cons |
| Very reliable | Kind of basic |
| Manual controls |   |
| 40 grind settings |   |
| Tinted hopper |   |
| Not noisy |   |
Bottomline
The Baratza Encore is the go-to recommended buy for those who don't understand anything about grinders. And this is because, no matter how hard you try, you can't mess it up with one of these. They are super reliable, they do a great job, and they last a long time.
Whether you're very indecisive or not very knowledgeable about grinders – this is a great choice all-around for most people. Make sure to read our article about Baratza Encore and Virtuoso for a better comparison of these two grinders
What to know before buying a burr coffee grinder
It's time to make a choice. Whether you don't like thinking too much about it, or you're afraid of not thinking it through, we have a few tips for you to follow while making this very important decision.
1 – A grinder is an investment
If you're concerned about money, try to do a little math on the cost of coffee itself. In most cases, buying ground coffee ends up costing a lot more in the long run (say 6 months or a year) than if you were to buy whole coffee beans instead.
So, look at this as an investment: You know you're gonna drink coffee every day, for the rest of your days. Doesn't it make financial sense to spend a little on a grinder when you're gonna save so much money over such a long period of time?
2 – Buy for what you need, not what you like
Before you make a decision, you have to be very honest with yourself about what you really need from your grinder. It's very easy, especially with machines like these, to fall in love with one particular machine because of its design or because of one particular flashy feature – but if you were to decide what you're gonna buy on that basis, you'd be screwed.
So think long, and hard – do you really need a grinder with a digital display, or could you do just fine with one that's completely manual? Are you buying a grinder with 60 grind settings because you know you're gonna experiment and use all of them, or because you think that maybe, sometime, it would be nice to just have it…
Basically, what we're saying here is: Shop with your brain, not with your eyes. Use our Pros and Cons list and compare each machine against each other; if you just look at each of their photos and make a compulsive decision, you might very well regret it later.
3 – How much coffee are you gonna be grinding?
One fatal mistake that one can make is to assume that all grinders are made equal. If you buy a small one because you don't want to take up a lot of space, or because you feel like you don't need to spend too much money on a big grinder, but you grind a little too much coffee daily, then that's gonna cause one or two problems.
Same as big grinders are made for coffee shops, the smallest grinders are meant to be given an appropriate use – if you try to cram into a small grinder the same amount of grinding that you would a coffee shop grinder, you will probably end up with an overheated machine that won't just burn your coffee and make it taste bad – it will become way too overheated, and the motor could stop functioning.
Evaluate your needs – the amount of use the grinder will get from you, and then get one that can handle that exact same workload or less. If it's more, you will have trouble. Cheap can mean expensive sometimes.
4 – Be aware of what you really want
It would be fair to say that many of us buy things out of impulse. If you're planning to buy a coffee grinder, please be sure that you're actually going to use it.
If you don't really care for freshly ground coffee or are a person that has done fine until this point without freshly ground coffee (whether it's bought and ground in the spot, or coffee from a local coffee shop where they grind their coffee before brewing) then you should probably think twice before getting one.
Grinders are noisy, and they make a lot of mess. If you're not 100% sure that you want freshly ground coffee, there's a big chance you'll end up filing the grinder away. So, beware, impulsive shoppers!
Conclusion
As a final word, we would like to say a few things in favor of the coffee grinder. We think that he who owns a coffee grinder is completely transformed – the ritual of daily coffee becomes a more crafty thing, something that requires effort and attention.
Plus, the fact that you ground coffee right there and then gives your coffee a boost in flavor that will literally improve the quality of your drink, morning, day, and probably your life, too.
So, for your sake, we really hope that this list nudges you in the direction of buying yourself a coffee grinder – you won't regret it.
---
Marcelo
Marcelo is a filmmaker and passionate barista on the side. He spends his free time cooking up new and exciting recipes – and drinking too much coffee in the process.