These two coffee giants are going head to head with each other to bring the ultimate comparison that isn't the typical rehash everyone else is doing.
This comparison will give you an inside look at the functions and differences. Hopefully, this will help you to decide which machine is best for you based on what each machine can offer.
Keep reading this Breville vs Delonghi comparison if you want to know more about these two coffee machines.
Overview of Breville
Breville offers a whole platform of espresso makers that have different functions and features. There are currently 10 different espresso machine models that are including various features that may or may not be included on upgraded models or espresso machines that only allow select functions. They all have cost considerations that make each model attractive and cost-effective.
It's fair to say that for each model that is progressively more expensive, the more you'll see that each additional function is adding digital controls or touch screen functions.
The story behind Breville espresso makers
Even though Breville is the big Australian appliance company that produces all sorts of kitchen items, it wasn't until 2011 they introduced their first espresso machine. This was later improved with an updated version marketed under The Barista Express name. They paid close attention to what coffee lovers liked in their all-in-one espresso machines and added special touches to appeal to those who like having built-in extras.
As a result, they were among the first to provide an espresso machine that could produce barista-level espresso coffee. This is why they have carved a nice niche in the coffee industry for homebrewers and small coffee shop owners.
Where are Breville products manufactured?
A majority of the kitchen appliances that Breville designs are in Australia, yet, a majority of them are actually manufactured in China. But, specifically for their espresso machines, some parts that are used for the 15 bar pump are actually produced in Italy. These pumps are then shipped to China and assembled into the finished product. These pumps are so well built that they can last upwards of 15 years if properly taken care of.
Breville espresso machine pros and cons
There are good and bad points that will make any Breville espresso machine attractive to buyers. This is why pointing out model differences is an unfair comparison. One pro point about Breville is their attention to detail which makes them so popular. Even though they are manufactured in China, they are well-built and surprisingly innovative for the features that make them highly attractive for those who like great-tasting espresso.
The downside to their line of espresso machines is the cost which is still very expensive for most coffee drinkers. This cost has come down over the years due to having these machines put together in China, which would have otherwise kept the cost out of reach for most people.
Overview of De'Longhi
The background history of De'Longhi shares a rich history of producing kitchen appliances but is better known for its range of products that are used in and around the home. It was in the early 1990s that De'Longhi decided to include coffee makers in their portfolio of company products. There are similarities between Breville Vs De'Longhi which are hard to separate unless you look at the product logo.
Despite this, De'Longhi is considered the premium brand that many people feel is more Italian sounding than Breville. Perhaps this is why many have chosen De'Longhi over Breville even though both of these companies are Italian.
The story behind De'Longhi coffee machines
In 1993, the very first espresso machine from De'Longhi was introduced that was among their first that was a pump-powered model. By 2003, they had improved this model which rolled out the very first self-automated espresso machine. This proved to be wildly popular and also was given upgrades and improved models. By 2004, they signed a major agreement with Nespresso to create a model that would use the newly introduced coffee pods.
No more than three years later, they were ready to introduce their Lattissima line of espresso machines which have become their anchor model for home espresso machines.
Where are De'Longhi products manufactured?
The product line of coffee and espresso machines that are produced by De'Longhi are first created in Italy but also have technical input from Nespresso and Swiss engineers. The machines are assembled in China. The pump used in these machines is stronger than the Breville pump which could be produced in Italy. There isn't any information on whether or not De'Longhi is using Italian-Made pumps- or if these are manufactured in China…
De'Longhi espresso machines pros and cons
One positive aspect for De'Longhi is that they were the first to introduce their espresso machines. They also get a lot of credit for landing high-profile joint partnerships with Nespresso and other notable brands. The main complaints about De'Longhi often include they are more expensive than Breville espresso machines. Because they have a stronger pump, they are also considered noisier likewise.
But the most irritating complaint is that these espresso machines will need regular maintenance.
Breville VS Delonghi: What are the differences between them?
To be perfectly honest, the easiest visual reference that makes it easy to spot the difference between these espresso machines is their shape. The Breville models all have rounded tops whereas De'Longhi tends to have a square-shaped top. The rest of the differences are purely internal even if they both now are using Nespresso coffee pods. It's also not much difference with both brands having the same amount of 19 bars of pressure.
There are subtle differences that are noticeable as you will find from these select sections. Here is where you can decide which brand is optimal for deciding which brand is better.
Design and build
Both are built well to make a great cup of espresso, but this always depends on your preference and skill at making espresso. This comes down to grind size which will not affect your ability to produce espresso from wither brand. This has not stopped some coffee snobs from being nit-picky about bar pressure and name brand preference.
Espresso performance
De'Longhi has a total of 19 bars of pressure on all of their espresso machines, while only some of Breville offer 19 bars. For the most part, their standard 15 bar pump is sufficient to produce espresso. Most professional baristas believe that the crema that is produced using 19 bars of pressure will create thicker crema. Once again, not every person drinking espresso is going to care about the quality of the crema when 15 bars is perfectly acceptable.
Filter baskets
When choosing an espresso machine that comes with manual coffee ground filter baskets, called portafilters. You might have a model that includes a choice of filters that will switch between pressurized or non-pressurized filter baskets. The difference between these filters is a matter of taste for some coffee professionals. Always choose an espresso model that includes both of these filters for a very important reason.
Pressurized filters are perfect for first-timers who aren't using pro equipment, while non-pressurized filters are better for those who are more skilled.
Steam wand and the milk frothing
One of the attractive parts of any espresso machine is the addition of a steam wand. These are the advanced models only and are also very important to keep clean for obvious health reasons. Even when milk is steamed and wiped off, there is also the chance that steamed milk will attach itself to the inner metal parts of the steam nozzle. Regular cleaning with a damp cloth is needed to remove any milk product that might stick to your steam nozzles.
Keep in mind that water that is going through these nozzles will also be affected by minerals in the water and will calcify very quickly. This means that self-cleaning nozzles don't always do their job as they're supposed to do.
Ease of use
All of the machines that come from Breville or De'Longhi are meant to be easy to use and work at the touch of a button. The models that are high-end versions are designed to be as simple as possible. As you can expect with any espresso machine, learning the programming instructions from Breville will be a must. If you're looking for constant simplicity, De'Longhi is centered on simplified one-touch button selections.
Brewing time
It's nice to know that both of these brands are going to produce a single shot of espresso in 20 seconds flat! This will take double the amount of time to make a double shot or enough espresso to make a cappuccino. The difference in bar pressure is not affecting the brewing times, however, the grind size and tamping may slow down the brewing time by mere microseconds.
Water reservoirs
The water reservoir for Breville is typically a bit larger than De'Longhi to be no more than 10 ounces of extra water per model. It will depend on the model that you buy as well, so comparing which size you're looking at, the difference isn't that much. refilling your espresso machine will be a daily task to ensure that all water that goes in will always be fresh clean water.
Counter space
The larger deluxe espresso models are going to take up a fair amount of space which is at least as much as a typical microwave will occupy. There are slimmer models that each brand offers that are slimmer toaster-sized versions that are perfectly fine for smaller kitchens and limited kitchen spaces. If you want to have more function, the larger espresso machines will typically take up more space ultimately.
Cleaning and maintenance
For the most part, both brands have built-in functions that are self-cleaning such as the milk wand steamer and where the espresso is coming out from. It will be important to clean the water reservoir and steamer wand regularly. And since most people are using water from their tap, it will be essential to remove limescale from these machines pretty often. Cleaning the outside of the machines is just a matter of using a soft sponge or damp towel.
Breville machines are touchier with their interior working parts, so regular maintenance will be needed to keep them running perfectly.
Price and value
What you want to know about the price is that the more that you pay, the more advanced and complete each espresso maker tends to be. The price difference between Breville and De'Longhi is always the total price that you'll pay. De'Longhi is more expensive because it's meant to be easy to use. Since you'll spend more time learning to select the programming for Breville, it's dramatically cheaper because it's not a single-button machine.
For those who don't like selecting from several customized functions, Breville is a lot of fun for anyone who likes being technical.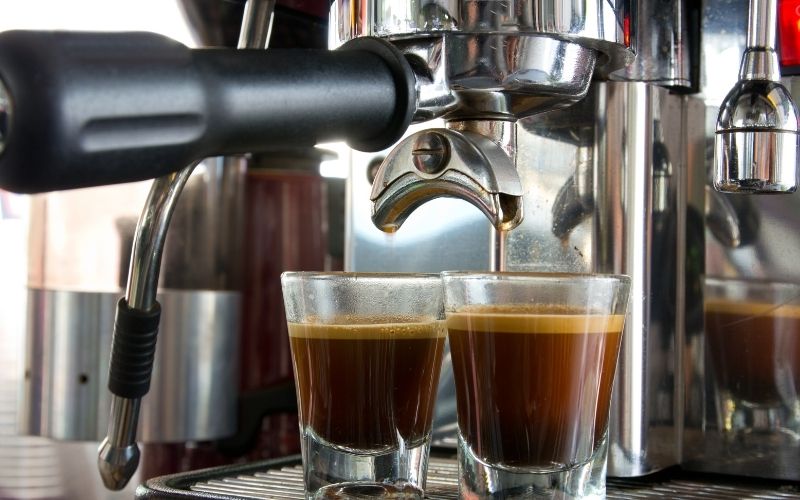 An overview of Espresso Machines
Manual espresso machines
Manual espresso makers have received a lot of attention recently due to the rising interest in alternate ways of brewing coffee. These function by relying entirely on you to produce the necessary pressure to make the coffee. There is no electricity or steam involved; all you have are your own muscles. The Flair espresso maker is a fantastic illustration of this.
By pulling on a lever (or two) to achieve the correct amount of power needed for espresso, you give the grounds hot water and ultimately pressure.
They aren't as convenient as other machines, and they take a long time between shots, but they can deliver a very different flavor and experience. They're a lot of fun.
Semi-automatic espresso machines
Espresso machines of this sort are the most frequent. They automatically create pressure, and all you have to do is move the grounds around with the portafilter and froth the milk with the steam wand. The machine, on the other hand, is solely responsible for the real job.
Semi-automatic machines are still the most popular because they are both convenient and manual, allowing baristas to add their own personal touch to each coffee, creating masterpieces in the process, or making each coffee according to the preferences of a single customer, which is a freedom that super-automatic machines do not provide.
Fully automatic espresso machines
Espresso machines that are fully automatic, also known as super-automatic espresso machines, do all of the work for you. They'll grind your coffee, froth your milk, and even pour it into your cup. They have a mind-boggling array of abilities. They also dose properly, so no portafilter is required, thereby eliminating baristas from the equation.
People appreciate super-automatic machines for a variety of reasons, the most obvious of which is that they are extremely convenient and perform all of the functions of a barista in one machine, but they do have drawbacks. They are not as fun as the other kind of machines, plus they usually have a high price that not anyone can pay.
Capsule espresso machines
Capsule espresso machines can create a lot of noise. Some individuals adore them, while others despise them. The truth is that people are increasingly switching from traditional espresso machines to capsule coffee makers. Capsule coffee makers are gradually becoming the most popular household coffee machine in the United States.
It's not hard to see why. They may lack the quality of a super-automatic espresso machine, but they do offer the convenience. Anyone can now make a decent espresso at home. They only have to press a single button. How fantastic is that?
Breville VS Delonghi: A Comparison of the Top Machines
Breville Barista Express vs De'Longhi EC155
The Breville Barista Express is one of our favorite espresso machines because of its sleek design and brewing flexibility, which puts a lot of the competition to shame.
The Barista Express incorporates automatic redundancy features, which means you get all the programmability and customizing possibilities that make semi-automatic espresso machines worthwhile, plus all the conveniences of more automatic machines.
The machine has some extras like a tamper and a 360-degrees swivel steam wand. Despite all of these features, the Barista Express is a small machine. It does, however, require a significant amount of counter space, so make sure you measure before you buy.
Dimension: 12.5″ x 13.8″ x 15.9″
Materials: Brushed Stainless Steel
Bean hopper capacity: 1/2 lb
Water Tank Capacity: 67 oz
Brewing system:

15 bar Italian Pump
Thermocoil system
PID Temperature Control
1600W Thermocoil–Integrated stainless steel water path accurately controls water temperature

Burr grinder: Steel conical burrs
Grind settings: 16 precision grind settings
The De'Longhi EC155 is an excellent entry-level espresso machine for new baristas since it provides good brewing at a reasonable price.
The EC155 semi-automatic single-boiler system works with both pre-ground coffee beans and pods or capsules, so whatever type of coffee you want, it'll work.
Unfortunately, the water reservoir is a tad on the tiny side, with a maximum capacity of only 35 fluid ounces. However, this machine's size is comparable to others in its price range, and the smaller tank means you'll have to give up less counter space.

Another point to consider is that this machine doesn't have a grinder, so you have to consider buying one to grind your beans.
You can check our article on the best manual coffee grinders to choose the one for your needs.
Dimensions: 12.2″ x 19.3″ x 15.0″
Weight: 6.7lbs
Materials: Plastic
Water tank capacity: 1 oz
Milk system: Manual
Number of filters: 2
Pump pressure: 15 bar
Breville Barista Express vs De'Longhi La Specialista
De'Longhi's La Specialista is likewise comparable to the Breville Barista Express, but be aware that it will not appear on any listings of budget-friendly espresso machine models.
The La Specialista, like the Breville Express, has a top-mounted bean hopper and cup warmer, analog pressure gauges, dedicated hot water outlets for americanos and tea, and a single group head, single steam wand, and single grinding cradle. The La Specialista, on the other hand, is lacking the convenient tool storage area that Breville skillfully hides below all of its drip trays.
Digital temperature control and a Smart Tamping System help to ensure a perfect coffee extraction every time. The innovative latte system allows you to create micro-foam milk, which is ideal for creating latte art.
The dual heating system, though, is the nicest aspect of all. The period between espresso brewing and milk foaming is nearly eliminated with this feature.
The grinding options are one of the downsides of La Specialista. There are just 6 options in La Specialista. Barista Express, on the other hand, gives you an astonishing 16 settings to choose from, allowing you to customize the flavor of your espresso to your liking.
We also found that the quality of the espresso is better for the Breville Express. In comparison, the shots from La Specialista are thin, watery, and lack the body and velvety smooth crema that make espresso so pleasurable to drink.
Dimension: 14.48″ x 15″ x 17.5″
Weight: 29.70lbs
Materials: Stainless steel
Water tank capacity: 2.5 liters
Grind hopper capacity: 250 grams
Pressure: 19 bars
Grinder: Integrated
Water reservoir: Removable
Breville Bambino Plus vs De'Longhi Dedica
To pull a flawless shot, the Bambino Plus employs Breville's four-key formula: appropriate dose, optimal pressure, accurate temperature, and forceful steam.
This means a 54-millimeter portafilter that holds 18 grams of pre-ground coffee, 15 bars of pressure, a ThermoJet heating technology that reaches optimal brewing temperature in three seconds, and an adjustable steam wand for latte art-worthy milk foam.
The Bambino Plus doesn't take too much space on the counter, however, like most other ultra-compact espresso makers, it lacks extra features such as an inbuilt grinder or doser.
Dimensions: 7.7″ x 12.6″ x 12.2″
Weight: 14.4lbs
Materials: Stainless steel
Water tank capacity: 64 oz
Brewing system:

15 bar Italian Pump
Ready in 3 seconds thermojet system
PID Temperature Control
600W ThermoJet–Integrated stainless steel water path accurately controls water temperature

Portafilter: 54mm
The Dedica is a manual espresso machine by De'Longhi. The Dedica is little but potent, pulling one or two shots of strong espresso with 15 bars of pressure without taking up too much valuable kitchen space.
It also features De'Longhi's patented Thermoblock technology, which allows it to attain the ideal brewing temperature in under 40 seconds.
One of the best things about the De'Longhi Dedica is that it can brew with either coffee grinds or pods, depending on your preferences.
Regarding the build quality, both use a combination of plastic and metal pieces, but they do so in slightly different ways. The Breville, for example, has a stainless steel body while the Delonghi has a plastic body, but the Delonghi features a heavier portafilter and a metal steam switch.
Dimensions: 5.86″x12.99″x11.96″
Weight: 4.2kg
Materials: Stainless steel
Water tank capacity: 1.1 liters
Pump pressure: 15 bars
Heating system: Thermoblock
Milk system: Adjustable, Cappuccino system
Number of filters: 3
Breville Barista Touch vs De'Longhi Magnifica
Users may produce a flawless cup of barista-style coffee in just three steps with the Barista Touch: grinding, brewing, and milk frothing.
You may fully modify the contents of your cup with the bright, touch-screen LCD user interface, from brew strength to milk temperature and texture.
The Barista Touch boasts a sleek, modern look, but that isn't the only feature that attracts espresso fans to the brewer.
It also boasts a quick heat-up time, with the ThermoJet heating mechanism achieving the ideal espresso extraction temperature in just three seconds.
The only missing feature is the auto tamping and the water tank at the back is not a choice that I like particularly.
Dimensions: 12.5″ x 12.7″ x 16″
Weight: 12kg
Materials: Brushed Stainless Steel, BPA Free Water Tank
Bean Hopper Capacity: 1/2 lb
Water Tank Capacity: 67 oz
Brewing system:

15 bar Italian Pump
Ready in 3 seconds thermojet system
PID Temperature Control

Burr grinder: Hardened steel conical burrs
Portafilter: 54mm
Grind settings: 30 precision settings
Despite the fact that this super-automatic brewer is one of De'Longhi's top-of-the-line models, it is nevertheless priced in the mid-range.
A 60-ounce water tank and a steam wand that swivels 180 degrees, owing to De'Longhi's proprietary frothing technology, produce a thick, creamy milk foam.
The Magnifica offers a rotary and push-button control panel with five brew strengths and four cup sizes to pick from, as well as a lot of programmabilities. These specifications provide nearly as much freedom as a semi-automatic brewer.
The only complaint that you usually hear from users is the noisy grinder.
Dimensions (mm): 230x430x340
Weight: 9kg
Material: Stainless steel
Water tank capacity: 1.8 liters
Bean container capacity: 8.8 oz
Pump pressure: 15 bars
Milk system: Cappuccino system
Heating system: Thermoblock
Breville Nespresso Creatista Plus vs De'Longhi Nespresso Lattissima Plus
The Breville Nespresso Creatista Plus is designed for latte lovers who rely on coffee pods to make the perfect brew, especially those with a bit more money to spend.
There are eight drink options on the Creatista Plus, including espresso, ristretto, and lungo, as well as eleven milk temperatures and eight milk froth textures to pick from.
A three-second heat-up time and auto-cleaning steam wand, a removable drip tray, a 50-ounce water reservoir, and an automated shut-off function that kicks in after nine minutes of idle time are among the brewer's other features.
Dimensions: 8.9″(W) x 18.7″ (D) x 15.7″(H)
Weight: 5.20kg
Materials: Stainless steel finish
Water tank capacity: 50oz
Heating system: ThermoJet heating element
Pump pressure: 19 bars
Milk functions:

Automatic Steam Wand with Auto-Purge
8 texture levels & 11 milk temps

Heatup time: 3 seconds
The Lattissima Plus is one of the top models of De'Longhi. In about 25 seconds, a coffee drink may be extracted from simple Nespresso OriginalLine capsules. Cappuccino, ristretto, espresso, lungo, latte, and hot milk are among the six pre-programmed beverages. It includes a hot water spout that you can use instead of the milk carafe.
Three one-touch beverage buttons and three coffee drink sizes are featured on the simple control panel.
The "quick cappuccino system" from De'Longhi heats to steam in 40 seconds and pours milk directly into your cup. You pour your milk into a detachable carafe and control the froth density using the lid's dial.
One negative point is that this machine can make only one cup of coffee at a time. It can be a limitation if there are many people in the household.
Dimensions: 12.5″ x 6.6″ x 10.2″ 
Weight: 4.5kg
Materials: Plastic
Water tank capacity: 0.9 liters
Pump pressure: 19 bars
Milk system: Automatic
Milk carafe capacity: 0.35 liters
Used capsules container: 10 capsules
The final verdict
In terms of freedom and simplicity, De'Longhi is user-friendly, cost-friendly, and attractive in the sense that it's not trying so hard to look cutting edge. It looks like the part of what most people want in an espresso machine. Breville is stylish, pricy, and simplified to the point that for anyone who just wants cutting-edge looks with simple functions, this is the best choice. Then again, both brands will need to be taken care of.
When it comes to maintenance, which will affect the lifespan of each espresso machine, keeping these machines clean all the time is the most important aspect of owning either brand. When comparing Breville Vs De'Longhi, you will also notice that price will always be a big concern for the pricier models that each of them is offering. Always choose function over a design if you are looking for the right espresso machine.
---
Giacomo is an Italian living in Shanghai since 2016. After working as a barista in Italy, he started to be more interested in the different types of coffee, beans, and the ways to prepare this ancient beverage. He founded Authority Coffee and he is currently on a mission to find the best coffee in China.