There are two kinds of coffee drinkers: Those who can get by with black coffee, and those who just need to have their espresso every morning. The only difference is… well, time.
The moment when you begin to think about buying an espresso machine is a very exciting one; you're finally taking that step towards making the best coffee you can – at home!
Below you can read more about the best espresso machines of 2022.
Top 3 Espresso Makers
No time? No problem! These are our carefully picked best espresso machines. Can't go wrong with either of them.
The 10 Best Espresso Makers – Feature Overview
Here's a quick overview of each machine's most important features.
Best Espresso Machines: One By One
So, for all of you who want to get your own espresso machine: This one is for you. We'll check out some of the best espresso machines in the market and see their pros, their cons – so that you can have a better picture of each of them and, in the end, choose the one that suits you the best. Let's do it!
A cool nickname, and an uncommon feature for an espresso machine; This Breville coffee maker is one of our favorites. Here's why.
This one is nicknamed "The Infuser" – let us explain. To make espresso, it is not necessary to do any sort of pre-infusion, since it would result in a bitter cup of coffee, but this machine focuses on a very gradual and particular kind of infusion that will not burn the coffee but will make a more flavorful and aromatic espresso. This is because the infusion means that the coffee grounds are extracted perfectly even.
One of the most advanced features this machine can boast of having is its digital temperature control, which not only regulates the temperature of water prior to brewing – it also controls the temperature of the water while brewing! This feature is godly, and it basically means that the quality of the coffee is as professional as it can get.
A 15 bar pressure system (the professional standard worldwide) is used in conjunction with the infusion to extract the best espresso.
And lastly, the steam wand: We know Breville's milk texturing technology is one of the best out there – and this one's not an exception. The steam wand on this machine makes silky, rich microfoam that's perfect for latte art. 
| | |
| --- | --- |
| Pros | Cons |
| Digital Temperature Control system | Only one group head |
| Elegant stainless steel finish that's easy to clean |   |
| 61-ounce water tank |   |
| Comes with a lot of accessories! |   |
| Volumetric control: Set shot volume yourself. |   |
Bottomline
It's hard to think of reasons not to buy this Breville. It's got a ton of features that aren't just there for show, like many others who incorporate flashy displays; This machine has functional features that improve the quality of your coffee.
If you want an elegant, conservative machine that has a lot of power – the Infuser is the one for you.
A small, elegant machine that's very easy to use no matter your understanding of coffee machines.
Learning how to operate an espresso machine requires a lot of experience; Sometimes, it's better to start with small machines that don't have a lot of features that distract from the most basic thing of all: The espresso.
This espresso maker is pleasantly compact and can deliver up to two shots of espresso at the same time (15 bars of pressure, too) and can steam milk for lattes and cappuccinos.
The controls are incredibly easy to operate, with just two rotaries and no buttons in sight – a truly friendly user interface. Plus, this coffee maker has two different heat control systems – one expressly for the brewing water and a separate one for the steam.
The design is a home run – it's compact, which is perfect for people who need to conserve as much space as possible, yet it still packs all of the features you'd find in bigger espresso machines. Plus it looks great.
What we love about this machine is that it can make a lot of drinks while being relatively inexpensive. With other machines, you would hardly get as much freedom as you get with this one (and this one's already quite limited) with the controls.
| | |
| --- | --- |
| Pros | Cons |
| Super compact | Can feel too cramped if you're making more than one cup at a time |
| Parts are dishwasher safe |   |
| Easy to use |   |
| 15 bars of pressure |   |
| Under 100$ |   |
Bottomline
We recommend this mostly for people who haven't used or owned any sort of espresso machine previously. It's super easy to use, it takes up very little space and the price makes it feel like it's not a compromise at all: Should you find out you didn't really need an espresso maker, it's not like you bought a 500$ machine.
So, if you're a newbie – this is the right machine for you.
Elegant, sophisticated, and powerful: The Brera Espresso Maker is a machine that can be used both for home use and commercial use.
In contrast to the previous one, this coffee machine comes with a wider range of options to customize your coffee drink as much as you want. This is done via a LED display on the front of the machine. It is easy to get the hang of, and it looks better than some of the other black-and-white types that you see around.
The steam wand (Gaggia's own Pannarello wand) is very potent and heats up in a matter of seconds. It can also be used as a hot water dispenser for Americanos or tea. Should it ever-present some kind of problem or malfunction, it's replaceable and can be ordered online for cheap.
By far the most convenient machine – both the water reservoir and the dreg box are located right up front – just pull gently and they'll come right out.
This Gaggia comes with a built-in grinder; make your coffee fresher than ever. The exclusive Gaggia Adapting System lets you program the grinder to grind exactly how you want it to.
| | |
| --- | --- |
| Pros | Cons |
| Convenient water tank and dreg box placing | A little pricey |
| Replaceable steam wand |   |
| Built-in grinder |   |
| 15 bars of pressure |   |
|   |   |
Bottomline
This machine is quite an obvious choice for all of you espresso lovers who love to drink coffee brewed with freshly ground beans. The beans are grinded directly into the brewing basket – they are shielded completely from the outside world.
If you're looking for convenience and appreciate freshness, this is the one for you!
Though the bambino gets its name ("little kid" in Italian) for its small size, that's the only small thing about it. Let's take a look at the Bambino Plus' features.
This machine was not conceived to be a cheaper alternative to Breville's bigger machines; Its small size serves a purpose, and must not be seen as a sort of downgrade. It can compete with commercial-grade espresso machines without breaking a sweat. Its Low-pressure pre-infusion system is to thank for the even extraction that leads to an amazingly rich espresso drink.
With a 3-second heat-up time and Breville's Digital Temperature Control feature, this machine can make some of the best espressos you've ever had in your life. You can go high with your dose – it's ideal for 19 to 22-gram doses.
The steam wand has an automatic microfoam texturing; Get that perfect foam for any sort of coffee drink you can think of. Perfect for latte art. All of the Bambino's functions are easily accessed through an array of stainless-steel buttons at its front.
We assure you that you could not find a machine this good with such a convenient design. It has all of the features of a professional machine – but its size is perfect for home use. A true prosumer machine, the Bambino seems, to us, like one of the best choices on this list.
| | |
| --- | --- |
| Pros | Cons |
| Conveniently small-sized | Might be too small for a coffee shop |
| 3-second heat uptime |   |
| Auto-purge function |   |
| Automatic milk-steaming feature |   |
| Digital temperature control |   |
Bottomline
Whether you have a cramped space in your own kitchen – or need to free up some space at your place by replacing your older, chunkier espresso machine, the Bambino Plus is there for you – a very good option.
If you're not on a budget and want a small machine that is just as powerful as any other, this is the best choice.
With a system that froths milk automatically, this machine is the fastest way to enjoy a delicious latte or any other drink that requires milk!
Not just a regular espresso machine – The Keurig Rivo, which works exclusively with Lavazza's espresso coffee pods, is the best option on our list for having a superb latte.
The machine comes with its own special milk pitcher; You only need to fill it with your favorite type of milk and place it in its designed place. Then, the Rivo will froth the milk automatically to perfection – impossibly frothy milk that will make any day better.
The machine is extremely easy to use, with only 5 different buttons to choose from. You can make yourself an Iced Latte or a Cappuccino – or simply go with an espresso.
The drip tray can be accommodated to place taller glasses – just in case you're in need of a bigger drink.
The best thing about the Keurig is that, despite being a simple machine with only a handful of buttons, you can make a lot of drinks easily. Thanks to easily making espresso and its automatic froth function that works both for hot and cold milk, your repertoire is instantly doubled: Make any sort of drink that you would otherwise have to go to the café for.
| | |
| --- | --- |
| Pros | Cons |
| Automatic milk frothing | Can only use Lavazza capsules |
| Comes with its own milk pitcher |   |
| 5 different one-button drinks |   |
| Very easy to use |   |
| 60-ounce water tank |   |
Bottomline
Out of all of the Keurig machines out there, this is one of the best. It makes an amazing espresso – and though it can only use Lavazza capsules, they've always had some of the best coffee in the world – made in Italy!
If you like one-button drinks and want to have authentic Italian coffee – then this one's for you!
A super-easy way to make complicated drinks turns this machine into its own barista.
You have to recognize a good product when you see one. And why, you ask, is the Café Barista so good? That's simple. It makes latte by itself! And other drinks that involve milk, too.
All you have to do is fill the milk pitcher with the desired amount of milk. Froth the milk, and it will automatically pour it into your cup. So, basically, once you place your cup in the tray – you can just sit back and watch how your Espresso machine makes you a Cappuccino. Pretty cool, right?
The Café Barista makes coffee just like a professional machine: Its 15-bar pressure system is what truly makes this machine a top-grade coffee maker that will get the most out of whatever coffee you want to use for your espresso.
Talking about design – it's very compact for all of the features it has. Just for comparisons' sake, the Keurig Rivo has, more or less, the same features – yet it takes up a lot more space. But the Café Barista manages to pack all of its features in a relatively small machine.
A new and enhanced version of Mr. Coffee has recently come out; among fixing some regular problems of daily usage and improving overall quirks, the design has been improved to be more practical. Plus, the finish changes from steel to a gorgeous red.
| | |
| --- | --- |
| Pros | Cons |
| Automatic milk frothing | Needs semi-frequent cleaning |
| One-touch milk drinks |   |
| 15 bars of pressure |   |
| Comes with its own tamper and measuring scoop |   |
| Super easy to use |   |
Bottomline
Our praise has to go to this fantastic espresso machine – it is just too easy to make drinks with it. Even those who are against one-touch drinks are going to fall head-over-heels for this one.
Great for latte lovers.
With an impressively ergonomic design, this single-serve espresso machine makes its way into our top best coffee makers.
Nespresso has some of the best technology out there. The Inissia is an incarnation of this technology – all within an award-winning design. It is light, foldable, and portable thanks to the handle/lever.
The Inissia has great force – it can deliver up to 19 bars of pressure for ideal extraction. 19 bars of pressure means that the crema on your espresso is going to be some of the thickest, silkiest you've ever seen.
Thanks to Nespresso, you don't have to worry about complicated maintenance issues. Your Inissia machine will automatically let you know whenever it needs to be descaled – and this process is automated, too. Just buy the Nespresso descaling kit – which are pods with the descaling kit inside – and run the machine normally. It will be ready to make coffee again in no time!
The automatic shut-off function works so that, after 9 minutes have passed without you making any coffee (that's way too long for us), then the machine shuts off, avoiding wasting unnecessary power or risking your machine overheating. It's a win-win!
With just 2 buttons, the Inissia couldn't get any simpler: One button for Espresso, one for Lungo. What more does anyone need?
Nespresso has over 24 different capsules for you to choose from; You'll never get bored or tired of their coffee.
| | |
| --- | --- |
| Pros | Cons |
| Ergonomic and portable | Not very versatile |
| 19 bars of pressure |   |
| Automatic descaling |   |
| Espresso + Lungo |   |
| Automatic shut-off function |   |
Bottomline
As far as capsule coffee goes, Nespresso delivers the best one we've ever tasted. And the Inissia is a very elegant machine – very portable, which makes it easy for you to move it around (something that would be impossible with other espresso machines).
This is a great machine for people who want quick, high-quality espresso in their home.
A full-metal machine with failproof controls – a true high-grade professional machine that'll deliver only the best of coffee.
The Rancilio Silvia Espresso Machine is an incredibly sturdy, stainless-steel, resistant machine. Made with the best materials for withstanding heat and heavy workloads,  this machine is a sort of nostalgic look at past standards for building espresso machines.
First of all, you have to notice that this machine's steam wand is super mobile – unlike others on this list. It can bend in many directions – which makes it much easier for you to steam milk without making awkward movements or spilling milk.
Then, take a look at the ample room on top of the machine – this is just so you can place your coffee cups on top (just like they do in coffee shops). The surface will warm up, which in turn warms your coffee cups just a little; This practice is common in coffee shops because a cold cup could mean that the coffee becomes cold when the two come together.
For being a machine that has an attachment to old times, the Rancilio Silvia can support newer coffee formats, like coffee pods and coffee capsules.
The biggest point Rancilio can make for itself is that its machines rarely ever malfunction or break down. Most people who have bad experiences with a particular machine end up buying from Rancilio because they want security – and Rancilio delivers. Virtually no complaints – ever.
| | |
| --- | --- |
| Pros | Cons |
| Professional quality materials | Expensive |
| Sturdy, no-nonsense design |   |
| Ample room on top for coffee cups |   |
| The steam wand can bend for enhanced maneuverability |   |
| Makes amazing espresso |   |
Bottomline
Rancilio is a name very well-known in the coffee world – mostly for its super-famous grinder. When they made this machine, it's clear they did not want to disappoint: This machine is so well made, that it could easily last a couple of generations before breaking down.
If you want a reliable, high-quality machine – this is it.
The buff sibling of the Bambino Plus – This machine can do everything, from grinding to frothing milk.
This is a big, big machine with an amazing grinder that can work just as fast and effectively as dedicated grinders do – yet it grinds directly into your machine, seconds before brewing. Freshest espresso ever.
This machine comes with two group heads able to deliver a double shot- and the bean hopper can hold up to 8 ounces of coffee beans. It is super easy to clean -in fact, it comes with a cleaning kit for you to get started. Cleaning is the best way to make sure your machine keeps working as it should.
Its digital temperature control maintains a steady water temperature throughout the brewing process; this means that your coffee will never be too watery or too strong – The BES is guaranteed to deliver a consistently perfect cup of coffee every time.
Thanks to its large capacity both for water and beans – this coffee machine is ideal for very busy settings – like a shared housing situation or a coffee shop. Its two group heads, delivering two coffees simultaneously will let you make 4 cups at the same time – without having to worry about grinding. Then just froth the milk with its high-quality steam wand to make yourself a latte or a macchiato.
| | |
| --- | --- |
| Pros | Cons |
| Built-in smart grinder | Too big for one or two people |
| Two double group heads |   |
| Comes with a cleaning kit |   |
| Tamper slot comes in very handy |   |
| Steaming wand |   |
Bottomline
It's not just the size that matters with this one – it does a great job both at making coffee and grinding it. It's one of the best swiss-knife kinds of espresso machines on the market.
If you want a high-quality machine that can grind coffee on top of making great espresso and frothing milk, then this is definitely the one for you!
A good-looking design coupled with a lot of space makes this machine the most practical one for clumsy types that can't handle cramped spaces.
ESAM is a machine that can be operated by anyone – it's super easy to use thanks to its dial/rotary controls that adjust most of your coffee settings.
The best feature of ESAM is its built-in grinder: its patented "Direct-to-Brew" system means that the beans are grounded directly into the brewing basket. This means super fresh coffee – which in turn means a much better-tasting coffee.
Aside from this, the machine is made so that it is very easy to take apart and reach all the parts of the machine that need cleaning. It boasts of not having to use corrosive chemicals to clean its insides like most other coffee machines.
ESAM's drip tray is one of the most convenient features we find in this machine; it has ample room for your coffee cups or milk jug – unlike other machines, the group head is placed right at the center, which makes it easier for you to make coffee without the fear of spilling.
This coffee maker has two separate Thermo blocks – which are for heating up water. One will heat up the water for your coffee, while the other heats up water for your steam wand. This means both a faster coffee and a better machine performance overall.
| | |
| --- | --- |
| Pros | Cons |
| Built-in grinder | Expensive |
| Dial controls |   |
| Super easy to clean |   |
| Sophisticated design |   |
|   |   |
Bottomline
While there are other machines that can do the job just as well as this one, this machine has a lot of personalities. It's got a mix of buttons and rotating dials to operate it, and its monochromatic, subtle design makes you fit with a particular kind of person.
If this machine seems like a fit for you and if you dislike using chemicals to clean your coffee machine, this one's the right one!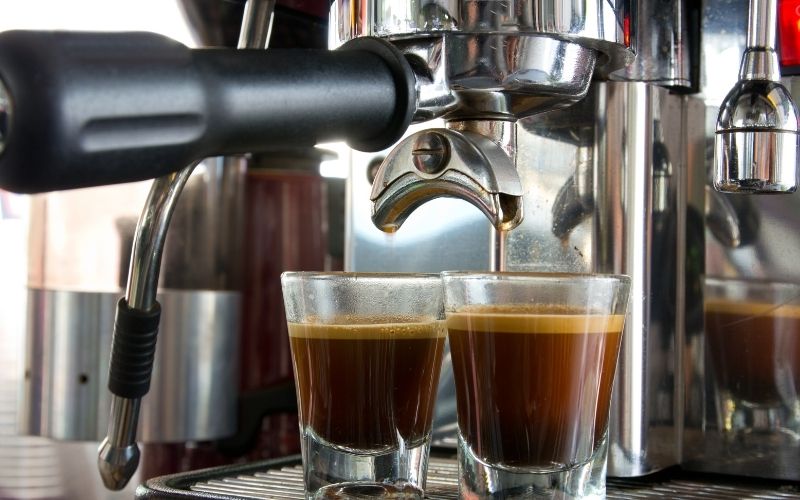 Time To Choose: How To Pick The Right One For You
That's all great – but how do you go about picking any of these, how do you know which one is the best for you? Well, there are a few things that can help steer you in the right direction.
The Coffee
Think about what kind of coffee you usually drink: Do you drink just espresso, or do you change it up often?
Do you want a machine that uses ground coffee, a machine that grinds whole coffee beans, or a machine that uses coffee pods/capsules? Those are three options that you have to keep in mind.
Whenever someone talks about an espresso machine, the first thing that pops into your mind is the classic coffee shop coffee maker that's very hard to use and uses ground coffee, but nowadays there's more than that.
Capsule and pod coffee is a great option for people who cannot afford to be buying, grinding coffee – plus, there's a lot to clean. Convenience wins, for some people.
The Milk
Then, you need to figure out what kind of coffee drinker you are. Some people rarely add anything to their coffee: Simple espresso makers, like the Inissia, would be a perfect choice for them.
But if you're a latte lover, then you have to buy a machine that can froth milk – in which case, a machine like the Bambino Plus would be the right fit for you.
There's a catch though; Do you know how to properly steam coffee? And do you want to go through that every time you make coffee? If not, then get a machine like the Café Barista, which automatically froths the milk and does all of this for you.
The Work
Ultimately, you need to be willing to learn how to really work your machine. There are machines that will ask for a lot of your time – they are hard to learn how to properly operate, and that can be frustrating the first couple of weeks. Plus, they will require a certain amount of time and work every time you want to make yourself some coffee.
Then there are machines that ask of you nothing but to push a couple of buttons and, boom, there's your coffee.
What you really have to figure out here is do I want to learn how to make great coffee or do I just want to drink great coffee? 
And both answers are valid! Some people really value the whole experience and view the experience as very satisfactory, while some other people would just rather have their coffee without having to do a lot of work.
And lastly,
The Size
This one's obvious, but important. You need to answer these questions; How many times a day am I gonna make coffee? How many people are gonna be using the machine?
Truth is, there's hardly a middle ground here. There are small, simple machines that work great for a couple of people and there are big machines that could easily handle the workload of a small coffee shop.
You have to make a compromise: Either go small or go big.
Picking small is usually the best answer for people who live alone, or for couples. Even the smaller machines can easily handle the workload of two avid drinkers.
But if your living situation goes over three people per coffee machine – then you would be better off buying a bigger one. Overworking a coffee machine is the worse thing you could do: They overheat and, more often than not, break down. It's a catastrophe: Better avoid this – which would be wasting a lot of money – and get the bigger one.
The price
There's a saying that cheap machines cost you more.
What we're trying to say is that if you buy an espresso machine just going by price, you will regret it later. Some machines can be expensive, sure, but could save you a lot of money in the long run.
Look at capsule coffee machines; they might seem expensive because capsule coffee is expensive, but – is it more expensive than buying yourself a coffee from one of the coffee shops you know? Probably not.
Think wisely and be sure that you do the math thoroughly – every little thing counts.
Conclusion
Buying a coffee machine is, for us, an extremely fun moment. Just going through each machine's features and strengths and making comparisons – you need to enjoy all of that. Because if you start getting too worried about making the wrong choice – you will probably end up making a bad choice.
So remember to breathe and enjoy your research. Take your time, look at each machine closely. Envision yourself using the machine: Look at your kitchen and think whether the machine you're considering looks like it belongs there.
It is a hard choice, sure, but it's a very important one. Don't worry – we will support you no matter what choice you make. And, to be honest, any of the choices on this list would be a good one. Don't think too hard – your espresso machine is not like a soulmate; there's more than one out there that would be a great fit for you.
If you are interested to know more about other coffee machines and coffee beans to prepare your espresso, make sure to read our articles:
---
Giacomo is an Italian living in Shanghai since 2016. After working as a barista in Italy, he started to be more interested in the different types of coffee, beans, and the ways to prepare this ancient beverage. He founded Authority Coffee and he is currently on a mission to find the best coffee in China.